Must Have Suits For 2018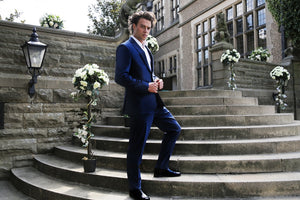 Men's Suits Designed for Every Occasion
The Stretch Suit: Must-Have Wardrobe Attire
First impressions are lasting impressions. Walking into a business meeting, everyone is going to have a perception of you and what you have to offer before you utter a word. Your apparel and how you choose to present yourself is absolutely paramount, which is something we understand better than anyone here at The Stretch Suit.
We know that not every occasion is the same. Whether you're wooing your date, or giving an international presentation, we have a variety of suits catered for individual situations. If your New Years Resolution is to be taken more seriously, stick around while we breakdown our different suit offerings here at The Stretch Suit.

1) Black Suits
Of course, we have to carry a quintessential stretchy black suit, one that will upgrade your appearance at every occasion. Black suits are good for working and traveling in, especially being the most popular suit color. Go to work feeling and looking like James Bond or a secret Kingsman with our clip-on anti-strangle black ties. All eyes will be on you.
2) Blue Suits


Black suits aren't the only way to turn heads. Blue suits are perfect for weddings, characterising your special day with a little colour. Maybe you want to break out into dance without ripping your trousers. Maybe you want to do the worm on the dance floor? Our blue suits are designed to handle this kind of movement. If you want to follow in Royal footsteps, Prince Harry himself wore a blue suit 
recently here in London, to announce his proposal to his new fiancée, 
Meghan Markle, former acting star of the Netflix series 'Suits'.
The Blue Suit is also perfect for Valentines day or sweeping a lady off her feet on a first date.
3) Grey Suits


Perfect for everyday activities. Grey suits are characterised by travelling to and from work, going to more laid back meetings, or adding variation to your dating scene. Grey is another monotone approach to looking serious, it's subtle, a colour that people trust, great for making that all important boardroom pitch. Who doesn't want the stylish demeanour of '50 Shades of Grey's Dorian Grey? Feel confident and look good when attending those red carpet or corporate parties.



4) Stretch Shirts


Why stop at suits? We offer Stretch Shirts, great for corporate men and young businessmen who feel restricted when wearing shirts today. Breathable in nature, light and stretchy, these shirts are able to complement any busy day, from big interviews to everyday meetings. The breathable fabric will assist with sweating, leaving you feeling cool and confident.
5) Performance Stretch Suits with Water Repel 


Do you need a performance suit that lasts and repels water? If you want a suit range that remains eye catching despite rain, spills, or sweat, we have stretchy products that are water repellent too. We've literally got you covered.
6) Big and Tall Range


Whether you're short or tall, we have a big and tall range that provides the accessibility of our versatile suits for all body types. From Stretch Blazers, to Stretch Shirts and Pants, our products are designed all male frames in mind.



7) The Worlds First Full Stretch Tuxedo


Our Tuxedo range is the world's first Stretch Tuxedo. You don't have to be uncomfortable while sporting your very best anymore. They're great for men who hate wearing suits. Feel powerful, energetic, confident and attractive with our Stretch s
Suit Tuxedos.