The Stretch Suit on Hollywood's Red Carpet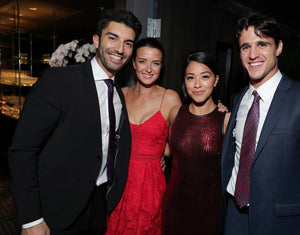 Hollywood lead actor, Justin Baldoni, known for playing Rafael in the hit Netlix Series, 'Jane the Virgin', rocks the classic The Stretch Suit on the Red Carpet in Los Angeles for the film premiere of 'Miss Bala', starring his fellow leading co-star, Gina Rodriguez.
Dressed to Impress and selfie taking.
Throughout an evening of popcorn, partying and paparazzi, luckily The Stretch Suit performance features keep Justin feeling comfortable and looking slick.
Justin is wearing the original, classic Black Stretch Suit, perfect for red carpet events, Valentine's dates, weddings, business meetings and generally looking dapper.